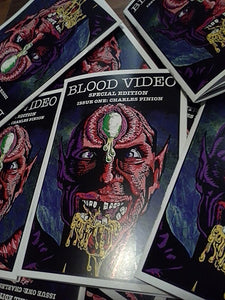 HORROR BOOBS and Mike Hunchback Team Up to Release BLOOD VIDEO SPECIAL EDITION #1 Featuring a Comprehensive Interview with SOV Filmmaker / Artist CHARLES PINION! PLUS! A VHS Screening IN Brooklyn with FREE BEER!
Heads up, Videovores! Those rewind-inclined, indie-publishing bra-busters at Horror Boobs have just unleashed a brand-spankin' new issue of their VHS culture and cinema zine BLOOD VIDEO, and it's all ready to groove straight into your mailbox! This first-ever special edition BV publication features a whopping 32-page interview with cult underground filmmaker Charles Pinion (Twisted Issues; We Await) conducted by the one-and-only Mike Hunchback, and comes jam-packed with images, illustrations and incredible insight on the entirety of Pinion's career. Here's a peek at the cover, which features a full-color illustration from the hand of Charles Pinion himself!
A stack of BLOOD VIDEO SPECIAL EDITION #1: CHARLES PINION ready to be read! Killer cover art by Charles Pinion, man!
BLOOD VIDEO Special Edition #1: Charles Pinion debuted this past weekend at Small Press Expo in Bethesda, MD, but you can grab yours by heading over to the official Horror Boobs online shop – for just 5 bucks! Dang, that's cheap! Dig on it, Tapeheads. And if you're still hungry for more Pinion-Mania, and you're in the Brooklyn, NY area on Monday, Sept 26th, get VHStoked. The Horror Boobs crew will be at Superchief Gallery Brooklyn screening two of Pinion's best flicks from genuine VHS sources! That means real VHS tapes! How could this get any cooler? It's FREE! With FREE BEER (from 8pm – 9pm) thanks to Lagunitas! Here is the official poster, followed by the details taken from the Facebook event page:
A VHS double-feature to explode your brain! And FREE BEER?! Get here, Tapeheads.
Horror Boobs Monday Movie Madness at Superchief Gallery/Tender Trap Every fourth Monday of the month starting this Monday, September 26th, get crazy with The Boob Crew as we host a series of mind-melting FREE double features. What goes great with a FREE screening? FREE beer! From 8-9pm, enjoy some brews, thanks to Lagunitas. What better way to kick things off than with two insane SOV brain busters by the unbelievably underappreciated artist/director Charles Pinion?! Screened from everyone's favorite medium-- VHS! (Not your favorite medium? Well... your loss!) Twisted Issues - Experience the underground punk scene of Gainesville Florida through the eyes of a psychotic skateboarding zombie out for blood! We Await - Trip out with a family of cannibals living in the San Francisco Mission as they are possessed by a sentient psychoactive fungus. While we're at it, let's celebrate the release of Blood Video Special Edition Issue One.
A brand new Horror Boobs-produced zine with a massive 32 page interview with Pinion conducted by Mike Hunchback and featuring a full color cover by Pinion himself. But wait there's more... The HB crew will have a few other secret surprises that will blow your bras off your boobs! And of course we will be set up to sell our wares, including the new issue of Blood Video. Oh, and don't worry... we ARE bringing mounds of VHS for sale or trade... if you got something we want! Monday Septmber 26th 8PM Superchief Gallery/Tender Trap 66 Greenpoint Ave Brooklyn, NY Horror Boobs is doing some stellar rewind-inclined work, eh, Tapeheads? You bet your woodgrain top-loader they are! So groove on over to their site and support by grabbing their new chunk of special edition BLOOD VIDEO, and if you're in the NY area, go party with them on September 26th and celebrate the analog-excellence of Charles Pinion! You'll be glad ya did.
Groove and Groove and Catch the VHSpirit.
Josh Schafer
---