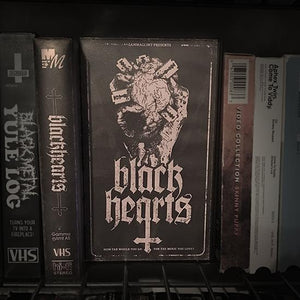 MAGNETIC MAGIC RENTALS to Release Black Metal Documentary BLACKHEARTS via Limited Edition VHS on APRIL 11th!
The video vindicating crew over at Magnetic Magic Rentals have already demonstrated a tinge of allegiance to the infernal side of analog with their now-sold-out-release of the absolutely bonkers and banned public access curiosity The Great Satan at Large (which any fan of outrageous and blasphemous video rea obscurities should check out immediately) and their in-house illustration turned t-shirt hailing the likes of VHSatan. But MMR is now bringing a celebration of ravishing grimness to fresh VHS with the release of a black metal documentary from filmmakers Fredrick Akselsen and Christian Falch entitled Blackhearts (click here for the trailer). Offered in a limited edition of 20 copies on black videocassettes with select randomly inserted gold VHS, Blackhearts drops on April 11th via the Magnetic Magic Rentals online shop.
The cover and side spine art detail for BLACKHEARTS. Corpse paint not included, dude.
Here's all the official info straight from Magnetic Magic Rentals:
Magnetic Magic Rentals has teamed up with GammaGlimt AS to bring you Fredik Akselsen and Christian Falch's brutal black metal documentary, Blackhearts! "How far would you go for the music you love? Blackhearts is a documentary that tells the compelling story of three die hard fans of black metal. This hard rock sub-genre gained worldwide notoriety because of its links to Satanism, church burnings and murders 25 years ago in Norway. We follow Sina from Iran, Hector from Colombia and Kaiadas from Greece on their journey to Norway – the mecca of the music that has formed their lives. What makes someone risk their life, get thrown in jail or sell their soul to Satan to make this dream come true?" Each release comes in a Black Blockbuster Case with Black Tape, and two randomly inserted Variant Gold Tapes with Variant Gold cover art. Also includes 11x17 Mini-Poster, a "Burn Your Local Church" Matchbook and Blackhearts sticker! Film is provided with English Subtitles Directed by Fredrick Akselsen and Christian Falch / GammaGlimt AS OST by Various Artists Design / Illustration by Elijah LaFollette
A peek at the Gold VHS variant for the BLACKHEARTS VHS release from Magnetic Magic Rentals.
Magnetic Magic Rentals is also offering the soundtrack to the film on audio cassette. You can get a look at that slice of analog blasphemy right here. Blackhearts drops on April 11th, so be sure to mark your rewind-inclined calendars and groove the MMR online store to feed your VCR some infernal home video excellence, Videovores!
Groove and Groove and Chill with Gaahl.
Josh Schafer
---