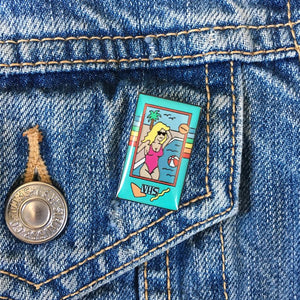 Radical Rewind-Inclined Stuff Alert: The BEACH BABE VHS Enamel Pin from Afterschool Spectral!
The VHSummer is in full effect, Tapeheads, and the too groovy 80s-lovin' crew over at Afterschool Spectral is ready to help you ring it in rewind-right with their brand new BEACH BABE VHS pin! The L.A.-based outfit recently released this analog-driven enamel creation with "bright pastels, big sunglasses, and a beckoning blonde who just wants to party" translated into the shape of a tape as a "tribute to those wild teen sex comedy tapes of the '80s/'90s that used to rule the video store." You know we can dig it.
Lookin' GOOD. Get a more detailed look, and VHSnatch this bad boy up RIGHT HERE!
The BEACH BABE VHS pin is Afterschool Spectral's first release in their seasonal TRASHY TAPES pin collection, measuring 1.1 inches tall, made from soft enamel with an extra-thick, vintage-style clear resin dome to top it off. You can scoop it up at their official online store by CLICKING THIS LINK, YO! For just ten bones, you'll be one step closer to having the most VHStyle at the pool party, dude. And that's pretty cool.
Groove and Groove and HI! I'm Wendell Tvedt!!
Josh Schafer
---