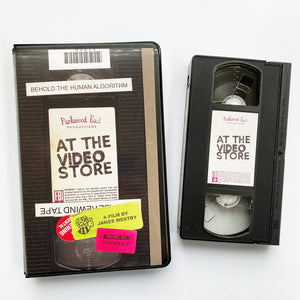 LUNCHMEAT Proudly Presents AT THE VIDEO STORE Documentary on Limited Press VHS!
LUNCHMEAT is absolutely VHStoked to put our heads together with Parkwood East Productions to bring At the Video Store to limited press VHS! This edition marks the first time the full-length documentary will be available on any home video format, with a limited edition of 50 copies housed in all-new artwork designed by LUNCHMEAT main brain Josh Schafer! Equal parts personal essay, intense rumination, and playful satire, At the Video Store is a heartfelt love letter to the American video store, exploring the importance, influence, and inspiration held within the walls of these home video havens.
BEHOLD THE HUMAN ALGORITHM! And get the VHS HERE.
The At the Video Store VHS was initially released at a screening of the film in Brooklyn, NY at Alamo Drafthouse as a part of the VHStival 2020 Tour with director James Westby and an incredible array of stars from the film in attendance. And now, this limited press VHS is now available exclusively via LUNCHMEAT on our official VHStore! Here's the official synopsis for James Westby's At the Video Store: AT THE VIDEO STORE is a loving ode to the dying art of connection and curation. Director James Westby (Film Geek, The Auteur, Rid of Me) weaves together the macro-narrative of the industry's changing business model with the intimate memories of store owners and cinema icons like John Waters, Nicole Holofcener, Gus Van Sant, and Bill Hader. While nostalgic for what was lost, the film is hopeful about what neighborhood video stores can still offer a world starved for authentic human interaction. And a look at the official trailer:
We here at LUNCHMEAT are VHSincerely thrilled to be able to bring this fantastic film to VHS. This is a film that truly captures the spirit and cultural essence of the video store, helping to communicate the vast importance of these places as community spaces, and how they've helped to shape cinema tastes and change people's lives. Video stores are an essential piece of our culture as a whole, and this film confirms their impact with heartfelt enthusiasm. We can't wait for you to experience it, Tapeheads. Click HERE to grab your copy. You'll be glad ya did, dudes! You can find out more about At the Video Store and about upcoming screenings by visiting their official site.
Groove and Groove and Stay Late Fee Free!
---