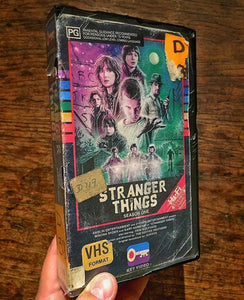 Analog-Inclined Artist Steelberg Creates Amazingly Authentic VHS Fan Art for STRANGER THINGS!
The advent of Netflix's original series Stranger Things has the streaming-inclined masses of binge watchers absolutely abuzz with awe and excitement, and for good reason. Taking cues from seminal productions like E.T., X-Files and The Goonies (though I would say Explorers!) Stranger Things offers viewers a Speilbergian kind of world peppered with loving nods to Stephen King and choice 80s horror / sci-fi essentials bolstered by amazing attention to detail in overall production. By and large, the series has been met with exceedingly positive reviews from casual viewers and critics alike. The soundtrack, which was created by two members of the Austin, Texas band S U R V I V E, is also spot on, adding yet another engaging and impressively authentic aspect to the already spectacular production. Simply put, this is the contemporary TV show the retro lovers of the world have been waiting for. If you haven't seen Stranger Things yet, it's time to dig in, Tapeheads. With Stranger Things being absolutely imbued with 80s essence and cultural cornerstones, it only seems fitting that this show should be aesthetically translated to VHS. Cue analog-inclined artist Steelberg. He's a creative that's received a lot of attention for crafting killer fantasy VHS fan art for all kinds of newly produced movies and television, but it's his newest piece celebrating Stranger Things that's got us totally VHStoked. It's overflowing with 80s VHS authenticity and offers absolutely amazing attention to detail. Groove on down and check out his incredibly accurate (cut-box and all!) interpretation of Stranger Things as a well-worn home video rental!
Gotta love that ragged rental look, man! You know we can dig it.
Simply VHStunning, eh, Tapeheads?! You can view his work via his
Offical Instagram page by clicking here!
Tell 'em Lunchmeat sent ya! One question, though: When's Netflix going to bring
ST
to limited edition VHS for real? I mean,
it worked for Deadpool, dude.
Groove and Groove and Leggo My Eggo, El!
Josh Schafer
---