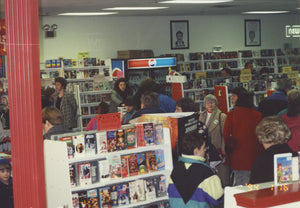 A Brief History of New England's Greatest Video Store: Video Headquarters (1983-2015) [EXCLUSIVE PHOTOS]
By Brantley Palmer 
Hey, Tapeheads! I'd like to introduce you to one of the best video stores in the country (until its closing in 2015, at least), Video Headquarters in Keene, New Hampshire. It wasn't just an amazing physical video retailer. The other thing that made it so special was how this one video store and its owner, Ken McAleer, far outside the film hubs of Los Angeles and New York City, were able to support and benefit other independent video retailers around the country, and how their presence would clash directly with studios and larger chains. 
Boasting a selection of over 42,000 titles spread across VHS, DVD, Blu-Ray, and 3-D Blu-Ray formats, at the time of its closing, Video Headquarters was hardly matched in New England when it came to selection. The store was voted Video Retailer of the Year in 1997 by the VSDA (Video Software Dealers Association), honoring it as the best single independent video store in the country. The mastermind behind the operation, who saw it through until its final days, was its founder, Ken McAleer. Ken not only opened the store and steered the ship through its rise in prominence, he was also immensely important on the national level, helping bring independent video stores together to use strength in numbers and gain leverage against the dominant forces in the industry. 
As part of that effort, Ken helped form and run the New England Buying Group, which pooled the resources of independent video stores in the region in order to get better pricing from studios and distributors. Together with other independent stores around the country, Ken and Video Headquarters also pushed class action lawsuits against studios for unfair business practices - and won! 
The store had its grand opening on November 19, 1983 at its original location in the Riverside Plaza in Keene, New Hampshire. The brainchild of Ken and his college friend, Steve Mosca (who met at Amherst College in the late 1970s), Video Headquarters originally opened with just over 500 titles, split between VHS and Betamax. 
Ken had recently left his position as a salesman at IBM to start the video store; after meeting so many people who were running their own businesses, he felt that he could do the same. The duo originally thought they would open a copy shop, but Mosca showed Ken a VCR, which planted the seed that a video rental store would be a better investment. The two chose Keene, New Hampshire, a town of 21,449 at that time, because the location was the shopping hub of the region. Nestled in the southwest corner of New Hampshire, Keene gets lots of shoppers from nearby Vermont and Massachusetts, who are looking to buy their wares in a tax-free state.  
The store originally opened in a 2,500 square foot storefront, occupying half a building that had previously been a movie theater (the Plaza Cinema 2). When they first opened, the store didn't occupy the entire storefront. They used a fake wall that helped to make it appear more filled to the brim, and every time they added a few hundred movies, they would move the wall back a bit further, to give themselves more space.
Eventually, as the business grew, they needed a larger storefront. They moved into a bigger location in the Riverside Plaza in 1986, by then boasting over 5,000 titles. This space allowed them to accommodate their growing collection, and it also provided more room for the home theater equipment they were also selling at the time (VHQ moved out of hardware around 1989 to focus solely on video rentals and sales). 
While the Keene store was the flagship Video Headquarters location, they did open two other VHQ rental shops in the 1980s: one in the Nashua Mall Plaza in Nashua, NH, and another in Manchester, NH on South Willow Street (they also had a separate equipment service center in Manchester). They sold the two other video store locations, and the service center, around the same time that they decided to get out of hardware, consolidating everything into their Keene location. 
In the early 1990s, Video Headquarters moved into its final home on West Street in Keene. This change was, as Ken McAleer would say himself, "Probably the best move we ever made." When they moved into the West Street location, VHQ sported over 14,000 film titles, plus a large video game collection. That collection would grow to over 42,000 films (and an unknown amount of additional video games) by the time they closed more than 20 years later . Ken eventually took over as the sole owner of the store and ran it as the President until its final days.
While Video Headquarters was unrivaled in the region as a video superstore, it wasn't without competition. Keene City Video was a cross town rival that was purchased by Blockbuster in the mid-90s pitting the single, independent store against the largest video chain in the country. Despite their prowess in the industry (and underhanded business practices), Blockbuster's existence did little to affect VHQ. Even when the big chain attempted to get exclusive titles through studios, Video Headquarters circumvented their attempted monopoly and would pick those titles up themselves from other retailers and rent them to customers anyway. VHQ weathered the storm against Blockbuster for over 15 years until the Keene Blockbuster closed in 2010, five years before VHQ would eventually shut its doors.
When Ken made the decision to close in 2015, Video Headquarters was still a profitable video store. The issue was that their lease was up and renewing it in the same location had become too expensive. They would need to move to another location to remain profitable now that business had fallen off during the rise of streaming. Ken made a valiant effort, looking at many potential new locations for VHQ, but ultimately he decided that moving into the smaller space that would be required wouldn't be worth the effort to move. Ken decided it was time to retire and initiated a store closing sale, aimed to end when their lease expired. 
Perhaps Ken McAleer and VHQ's greatest contributions were to the greater independent video retailer industry. As the business of video rentals became more consolidated and large corporations purchased the big chains, independent retailers began to feel the squeeze. There was often little that small, independent video retailers could do to compete with the capital behind the big video store chains.
The only opportunity for survival was for independent video retailers to band together to strengthen their position in the industry. While there were larger trade organizations, like the VSDA (Video Software Dealers Association - later to be known as the EMA (Entertainment Merchants Association)), independent video store associations popped up as well, like the IVRG (Independent Video Retailer Group). Ken served these groups in a number of capacities and on many of their committees throughout the years. He was on the executive board of the VSDA New England chapter and served on the board of the EMA from 2011-2013. He also served as Treasurer of the independent video retailers VSDA group for several years. 
Ken was also a part of the mentoring program created by the VSDA in 2000, lending his expertise to other independent stores around the country. He traveled to Chicago in 2000 to visit stores, provide feedback on their operations, and offer advice on how to improve them. As much as he wanted Video Headquarters to succeed, Ken was also always focused on the greater business challenges facing his industry, and he wanted to be a resource for other independent retailers. 
Ken also helped to create and run the New England Buying Group, which combined the buying power of smaller independent chains and individual stores. These smaller trade associations also pooled their resources to sue major Hollywood studios and Blockbuster for unfair business practices, because Blockbuster was receiving sweetheart deals on products from studios - deals that weren't offered to independent retailers. 
In 1998, Ken created videoretailer.com, with the goal of establishing an online buying group that would give independent video stores the same bulk buying advantage that the big chains enjoyed, while also establishing a site that would provide independent video stores with information about upcoming releases, program analysis, buying recommendations, and merchandising. While the online group buying element of the website didn't pan out in the way that McAleer had hoped, videoretailer.com was still able to get discounted merchandise and promotional materials for stores, including action figures from Full Moon Toys. The site was so successful that it ended up being purchased by the VSDA in 2001. 
Video Headquarters remained strong into the new millennium and Ken stated that the best years of the store (in terms of revenue) were 2004-2007, with the business falling off after that. Outlasting the local Blockbuster by five years, VHQ finally closed its doors on July 31st, 2015, after an incredibly successful closing sale in which almost everything (including the fixtures and signage) was sold. Today, Ken is enjoying retirement in Florida where he's built a sailboat which embarked on its maiden voyage in 2020. The legacy of VHQ lives on through its former employees and customers (this author, in fact, has five VHQ shelves in his home to store his Blu-Rays and DVDs). 
If you think this story is incredible, just wait until you see Palmer's documentary on Video Headquarters, which further explores the fascinating and rich history of this legendary and influential video store.
EVERYTHING TO ENTERTAIN YOU: THE STORY OF VIDEO HEADQUARTERS comes to videocassette exclusively from Lunchmeat on Saturday, Nov. 18th at 12noon EST in our store!
Grab the slab and feed this historical home video document to your VCR. You'll be glad you did.
---